After pulling up to the speaker in the drive thru, the employee on the microphone will offer you their specials. After kindly declining the special you can proceed to ask for the 4 for 4 meal.
4 for 4
This deal consists of your choice of sandwich, a 4 count nugget, small fry, and a small beverage. The sandwich choices include: Jr. Cheeseburger, Jr. Cheeseburger Deluxe, Jr. Bacon Cheeseburger, Double Stack, Crispy Chicken Sandwich, Crispy Chicken BLT, Grilled Chicken Wrap, and Spicy Chicken Wrap. The beverage includes their Coke product fountain drinks, as well as a Frosty that you can order as a substitute. They offer premium beverages that include flavored teas and lemonades, however, there is an upcharge to substitute these for your regular beverage.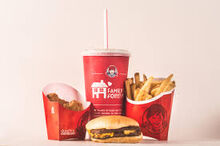 Ordering
Usually, when you tell the employee that you'd like the 4 for 4, they will assist you in the ordering process by asking what type of sandwich and drink you'd like; to make sure the order comes out perfectly to your expectations. At the end, they will ask if you'd like any sauce( BBQ, Sweet & Sour, Buttermilk Ranch, Honey Mustard, and/or Sriracha Sauce). Once done ordering, they may give you your order total at the speaker or tell you to pull up to the window for it as well as your food.
After receiving your order, make sure to check the bag for the correct food items, or any necessary items that you may need like straws, napkins, and any sauces. Enjoy!
Community content is available under
CC-BY-SA
unless otherwise noted.